The Best Fall Season Fall Floor Mat
|
With Autumn comes falling leaves, cooler weather and most likely quite a bit of rain. With rain, comes tracked in water and dirt, right? Well, not necessarily. There is a solution—and it can be easier and more beneficial than you might think. The Aqua Dam floor mat from PromoMatting from Americo, a superior water control mat specifically designed to help absorb water and keep floors safe and dry. This is achieved by its channeled surface,  which allows water to collect and prevent it from being tracked into your commercial, retail or apartment building.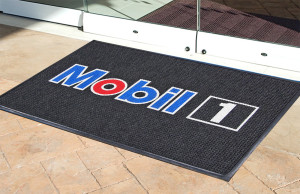 It is ideal for high traffic entrances and can stand up to even heavy traffic on the rainiest of days. In addition to the benefits this mat offers during the rainy season, you will appreciate the promotional opportunities too. Even as the mat is highly-functional, it is possible to inlay the mat with bold colors and logos, so you can display your message to your customers as they enter or exit the building. A bold promotional mat is an excellent marketing tool, since you are taking advantage of space that would otherwise be "wasted." Your guests will find it hard to ignore your message when they see it as they enter and exit your building every day.
Like any mat used in an entryway setting, the Aqua Dam mat has a durable, rubber gripper backing, designed for safety. With the strong gripping back, plus the water-absorbent features, this rug offers a slip-resistant surface you that your guests will appreciate on those rainy days. While you have many options when it comes to choosing an entrance mat, few are better for the rainy season (and throughout the year) than the Aqua Dam. For more information on the Aqua Dam or other PromoMatting from Americo products, please visit their website at:  http://www.promomatting.com.